IT automation and operational solutions are just
some of the products Qdigital has to offer.

Learn more below
Our automation plans give clients complete flexibility when it comes to managing any and every aspect of their servers and workstations. We rounded up a set of 7 fundamental types of IT automation that businesses of all sizes tend to need. Check out our pre-configured packages below to see the full spectrum of management and features available for your organization.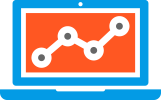 Our most basic package. It includes antivirus, antimalware and web protection—perfect for any workstation.

In addition to antimalware automation, this package includes firewall management and intrusion detection management.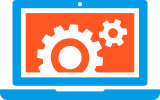 Includes proactive issue, backup and performance monitoring, as well as patch management and service desk quick access. Antimalware and Endpoint packages can be added on.

Need remote access to your workstations from home or on travel? This package includes client remote access and service desk quick access for any support needs.

From blocking malicious sites, to social media, this add-on subscription lets you customize comprehensive website filtering for any or all workstations.

Automation Bundle &
Fully Managed Service Plans
Our most robust and comprehensive packages include everything you see here and more (e.g., application control, task automation, asset & inventory tracking, reporting, installation services...).
Ready to automate your IT with True Manage℠?
Maximize efficiency through

Workflow
Point of Sale & E-Commerce
From point of sale, to inventory management, to e-commerce, to accounting and finance, we have the right integrated system for your business.
The most successful businesses put their customers first, and so should you. Make the most of your client-facing interactions with customer relationship management (CRM).
Project & Workflow Management
Whether it's scheduling, creating and assigning tasks, or simply optimizing your workflow, we give you the ability to planning, execute, and control every stage of your projects.
No matter if your business is based in manufacturing, retail, hospitality, service—or something in between—we create the perfect blend of solutions to escalate your enterprise.
Take your business to the next level of productivity.